Gold Bra- 'Crescent'
$40.00
Choose from 3 different styles in a gold finish.
In stock
These lovely coin bras are an adjustable size, with 2 hooks which cross over at the back.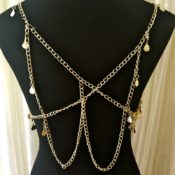 Please note:  The teardrop style features a teardrop with two coloured  gems set in an enamelled background.  If you have any specific colour needs (e.g. to match an existing costume), please let us know when placing your order.