Description
Gorgeous full skirts with yards of lovely, light, frothy fabric in various patterns. These skirts look particularly stunning with a belt and top in a block colour, that picks out one of the colours in the skirt.
These amazing skirts, have two layers of circular skirt. They have 2 spilts, which can be shown, or can be easily covered, as the skirts are so full. They are one size fits all, with elasticated waist.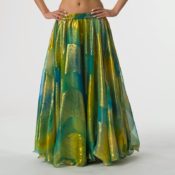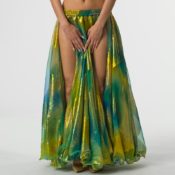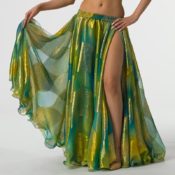 These skirts have a special story… our supplier in Cairo, travels to Dubai, where he selects a limited amount of seasonal fabrics. He brings them back to Egypt, where talented costumiers sew them into high quality, belly dance skirts. Ali from Sydney, travels to Cairo and hand selects her favourite designs, and brings them back to you, at Amera's Palace. Be quick! These skirts don't last long!