Saroyan Zills
$88.00 – $130.00
We are very proud to stock Saroyan Mastercrafts finger cymbals. Renowned worldwide for the finest craftsmanship, and a beautifully pitched sound. These zills will last forever, and are an investment in a high quality musical instrument.
Come in sets of four, with elastic and fitting instructions included.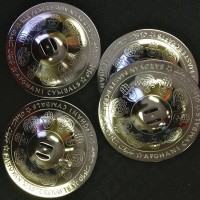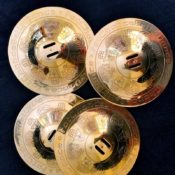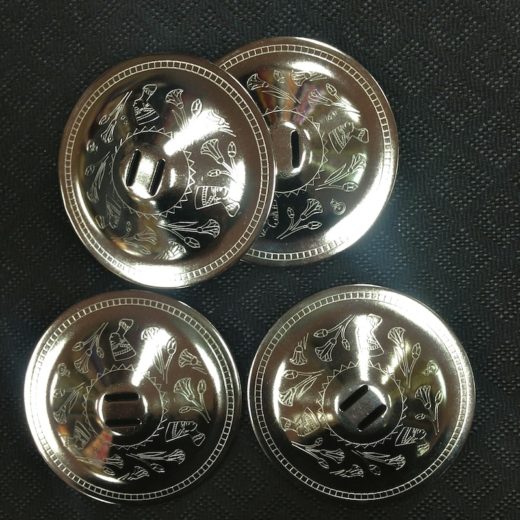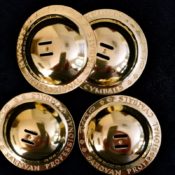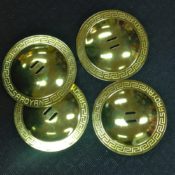 "Afghani" Cymbals for Tribal Dancers 
Available in german silver these sagats are 7 cm diameter.
These heavy silver-tone zills depict an intricate circular design of "Khamsah", the hand of Fatima. Approximate weight 230 grams. 7cm diameter
 FatChanceBellyDance® Signature Zills
Designed for FatChanceBellyDance® exclusively by Saroyan Mastercrafts, these 2-3/4″ premium quality brass zils have a clear, mellow tone and weigh approximately 6.4 ounces per set.
"Nefertiti Pro" The Queen's Own
Similiar in tone to the 'Saroyan Pro' series, the Nefertiti's are my current choice in zill! Intricately designed finger cymbals with a clear and deep tone. Ideal for troupe performances and crowded night clubs. 2-1/2″ diameter. Approximate weight 180 grams.
Saroyan Pro
Since bell collecting is one of Saroyan's favorite hobbies, he kept experimenting with this design until he achieved the beautiful tone that these cymbals carry. Distinct bell like tone, medium pitch, quality volume. 2-3/8″ diameter. Approximate weight 180 grams.
"The Grecian" Cymbals
The lowest pitch in the Saroyan cymbals collection. If you like mellow tone, these cymbals will steal your heart. Light weight, with Grecian key border design, ideal for the sensitive ear and indoor performances. 2-5/8″ diameter. Available in Brass. Approx weight 133 grams.