Antique Silver Coin Bras
$40.00 – $45.00
'Antique Silver' is a very dark silver. There are 3 styles available in antique silver.
These lovely coin bras are an adjustable size, with 2 hooks which cross over at the back. They can be worn over a bra, a choli top… or on their own, for a more risque look!!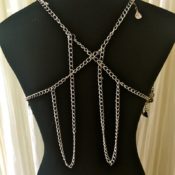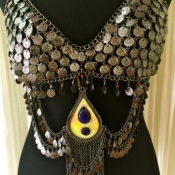 Please note:  The teardrop style features an enamel teardrop with two gems set in an enamelled background. The colours vary:  if you have any specific colour needs (e.g. to match an existing costume), please let us know when placing your order.